The 5 Best Vegetarian Restaurants in Ibiza
Written on : 12 April 2021
By : Elisa PINHEIRO
Ready for your next holiday in Ibiza? After visiting the island's must-sees, walking the streets and sunbathing on the most beautiful beaches, it's time for you to enjoy a good meal. It can be difficult to find a nice place to eat when you are a vegetarian, so Villanovo has put together the 5 best vegetarian restaurants in Ibiza. Here is our selection of the best vegetarian restaurants in Ibiza, with a wide choice of quality dishes.
 
>>> Discover luxury villas in Ibiza
>>> Our guide to Ibiza
Wild Beets
Carrer Venda de Can Llàtzer, 9, 07814, Santa Gertrudis de Fruitera, Ibiza
Located in Santa Gertrudis, Wild Beets serves only plant-based dishes. Enjoy healthy and nutritious food morning, noon and night in a contemporary setting. A la carte dishes include Buddha Bowl, Veggie Burger, salads, falafel and soups. There is also a special menu for children. For breakfast, try the delicious porridges, pancakes, yoghurt and fruit. A perfect way to start your day! What's more, all the products at Wild Beets are organic, local and in season. Don't miss out on the fruit juices and smoothies, one of the restaurant's specialities. It uses iPurify, a system developed by the founder of Wild Beets that allows you to have a juice rich in nutrients, vitamins and minerals to detoxify your body.
Passion
Paseo Juan Carlos Primero, 23, Edificio Mediterraneo, 07800, Ibiza 
Local, organic and high quality products are what you can expect at Passion Marina. Opened in 2002, the restaurant has opened in 4 other towns in Ibiza (Playa den Bossa, Santa Eulalia, San Jose and Vara De Rey). The restaurant serves mostly vegetarian dishes, but also offers fish and chicken options. After a stroll through the old town, come and enjoy a brunch at Passion. There is a wide choice of pastries, pancakes and toast on the menu, which you can accompany with coffee and fresh juice. In the evening, sit around a table with your family and enjoy burritos, salads and burgers.
 
 It has been voted the healthiest restaurant several times!
On The Beach Ibiza Restaurant
Cala San Vicente, 07810, Ibiza 
After an afternoon in the sun on San Vicente beach, extend your beach holiday by dining at On the Beach restaurant. In an idyllic setting, next to the golden sand and turquoise sea, try tapas, sandwiches, salads and pokés. You'll even find a vegetarian paella, a typical Spanish dish. If your loved ones are not vegetarians, the restaurant also serves grilled meat and sushi.
Eat Is Life
Avinguda de la Pau, 1, 07800, Eivissa, Ibiza
Playa Port des Torrent s/n, Sant Josep de sa Talaia, 07829, Ibiza
The restaurant opened with the aim of helping people change their bad eating habits. The menu includes nutritious dishes, cocktails and smoothies made from local products. The products served are mainly vegetarian, but other options are available. One of the special features of Eat is Life is that the kitchen is completely open, so you can watch the chefs prepare the dishes before your eyes. Eat Is Life has also opened a restaurant and wellness area near the beach in Port des Torrent. So after a good meal in front of the beach, you can enjoy a yoga class.
 
If the food has won you over, the menu changes every day so you can discover different dishes.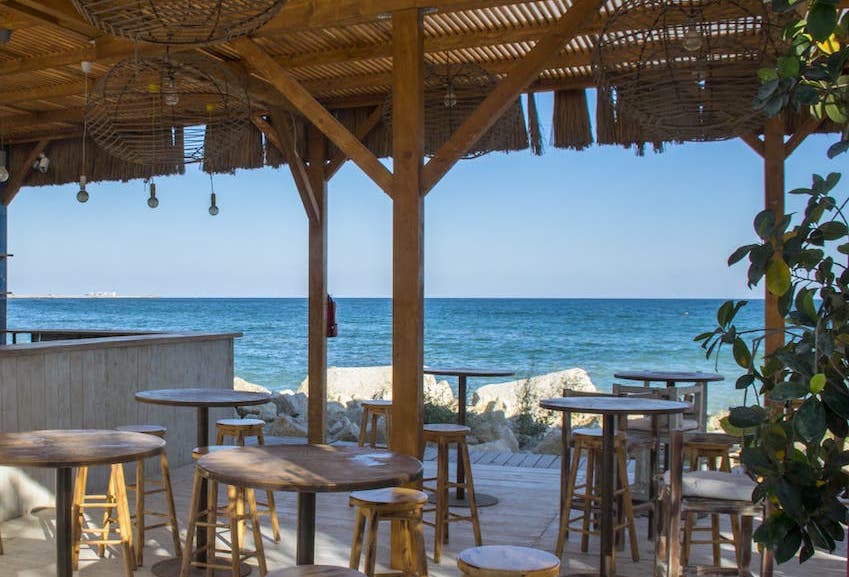 La Paloma
Carrer Can Pou, 4, 07812, Sant Llorenç de Balàfia
Located in the middle of the island, in the small village of San Lorenzo, La Paloma is a family restaurant. The menu does not offer a wide choice in order to focus on fresh and quality products. An authentic cuisine made by a chef of Tuscan origin, hence the many Italian dishes. The products are local or Italian, and change every week according to the seasons and the availability of the markets. The restaurant is set in a blue and white finca. There is also a small café nestled in an orchard of orange, lemon and flower trees. This is a unique address not to be missed during your stay in Ibiza.
 
>>> Stay in Ibiza
>>> Find our selection of restaurants by the beach
Babylon Beach Ibiza
Carrer Bartomea Tur Clapes, 20, 07840, Santa Eulalia del Río, Ibiza
Set on the water's edge, under palm and pine trees, Babylon Beach welcomes you in a bohemian style. Located near Santa Eulalia, this luxury restaurant offers healthy and organic food with products straight from their farm. The menu features a wide range of vegetarian dishes, including salads and pokes. In addition, there is always a vegan option on the menu. With direct access to the sea and a playground for children, it's the perfect place to relax with your family after a good meal here. Escape for a moment and enjoy a cocktail with your friends on the deckchairs under the sun.