7 things we miss when we're back from Ibiza
Written on : 07 February 2019
When we're back from Ibiza, we need some time to come back to Earth. After this trip out of time, between sunny landscapes and lush nature, it's time to leave this little heavenly island. If the silhouette of the island will quickly trigger your memories when you board the plane, it's only when you land that you'll remember this Pitiusas island, which succeeds in combining tradition with modernity. From one reminiscence to another, nostalgia will slowly set in. There is good reason to come back, right?
1- The lapping waves of the Mediterranean
Ibiza is an island that enjoys a favourable climate, particularly between June and September. When you're back from Ibiza, you'll remember your long days on the beach or by your private pool. On fine sandy beaches, you'll remember chilling in the sun and diving into Mediterranean sea's turquoise waters to cool off. If you had the chance to rent a villa with sea views, you'll remember, as soon as you're back from Ibiza, waves lapping which had cradled you from morning to evening. The waves rising and crashing into the rocky cliffs are precious moments that you'll never forget. On the beach, you'll remember admiring a dozen sunsets, all more unforgettable than the previous one. The Mediterranean sea's sounds and images will leave an imprint in your mind and will undoubtedly make you want to come back to Ibiza.
2- Ibiza's amazing natural landscapes
When you're back from Ibiza, the White Isle's exceptional treasures will progressively trigger your memory. From historical sites in little villages to pacing up and down alleyways with family or friends, Ibiza is full of not-to-be-missed activities. If you rented a villa in the countryside, you had the chance to enjoy a relaxing setting in which nature is Queen. Thus, when you're back from Ibiza, you'll remember lush green landscapes which are smoothly mixed with the vibrant blue of the sky. Slowly, you'll smell again the scent of pine trees, juniper and palm trees, all the lush vegetation which floods the island of Ibiza.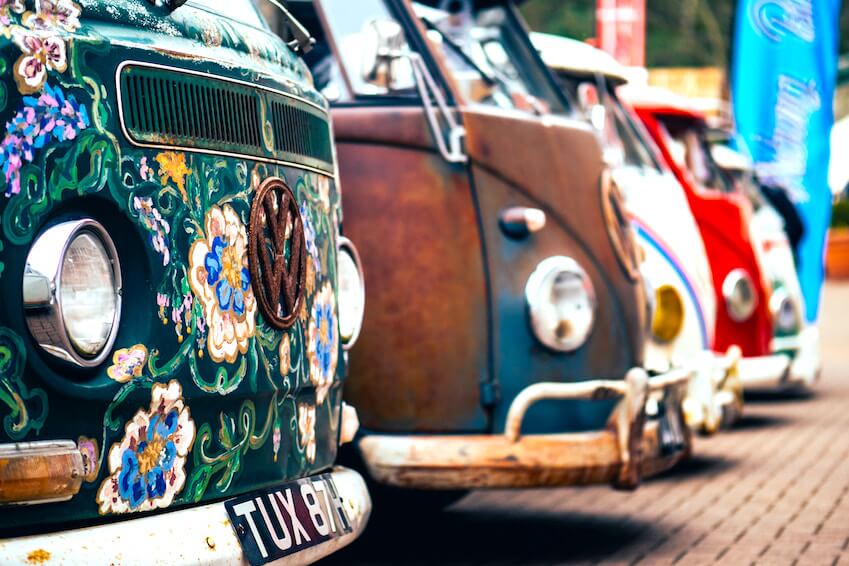 3- Ibiza and its bohemian spirit
Steeped in the hippie commune which settled on this Pitiusas island in the 70's, Ibiza is breathing a bohemian atmosphere that you won't forget. From walking around the various hippie markets of the island to discovering historical places marked by the hippie movement such as Atlantis, you'll never forget this cosmopolitan island which is full of life.
4- Bars and nightclubs which have built Ibiza's reputation
If you're kind of partier, you have undoubtedly enjoyed, during your stay, various bars and nightclubs of Ibiza. Even if Ibiza has much more to offer than a hectic nightlife, we have to recognise that there is still time for another party in winter and summer. Very quickly, you'll remember your favourite sounds which have resonated in your chest all night long. Lights during Ibiza nights will progressively trigger your memory and will make you regret that you left so quickly...
5- Exceptional views of the surrounding islands
From your villa or from the various viewpoints of Ibiza, you can observe breathtaking sea views or views of the surrounding islands. Thus, when you're back from Ibiza, you'll remember these panoramas, the terraces overlooking Mediterranean sea, all the landscapes which had you stumped. You'll also remember Formentera, Ibiza's adjacent island, smaller but lovely as well, that you'll undoubtedly have admired from your villa.
6- The quietness and peace reigning on the island
Far from common ideas, Ibiza is more than its hectic nightlife. In small villages, there is a very peaceful atmosphere. When you're back from Ibiza, you'll remember these havens of peace where you could relax and unwind. From the smell of pine trees to the barking of the dogs who run in Ibiza's countryside, all your senses will be awakened as soon as you're back from a getaway in Ibiza. One thing's for sure: coming back to the daily routine will cause a brutal collision with reality and will make you want to take the next flight to join this mysterious and fascinating island again...
7- Ibiza and its rainbow of colours
During your stay, Ibiza will carry you on an odyssey that you won't soon forget. You will be marked forever by this very colourful island. From the blue of the Mediterranean sea which is mixed with the one of the sky to pinks and oranges of the stunning sunsets including the vibrant green of natural landscapes, you'll be literally amazed! When you're back from Ibiza, this rainbow of colours will sear in your memory for unforgettable remembrances.