Where to eat in Ibiza? Our favourite addresses
Written on : 27 March 2019
In Ibiza, activities are diverse and varied. From watersports to endless beaches and hikes, Ibiza is not just about the bustling nightlife. The vast array of activities will likely open your appetite. To refuel you, we have selected, just for you, addresses in the four corners of Ibiza. Traditional or cosmopolitan, the kitchens adapt to all tastes and desires. Discover our favourite addresses in Ibiza!
The most trendy: El Chiringuito
Located in the middle of the sand dunes and green valleys of Es Cavallet, El Chiringuito is a chic and trendy beach restaurant. Take a seat on pristine sofas bordered by the golden sands of the beach. Here, the atmosphere is soothing and fits perfectly with the natural environment. The restaurant is run by Jonathan Thorogood and Olivia Fleury, two renowned restaurateurs who have made El Chiringuito a must-visit in Ibiza. From breakfast to dinner, El Chiringuito will awaken your taste buds. In the morning, wake up with Benedictine or Florentine eggs, organic granola and homemade pastries. Lunch is served from 13:00 and offers a selection of Mediterranean dishes that are prepared with passion. The ingredients are fresh and seasonal, to the delight of gourmets. In the evening, linger on the luxurious wooden deck of El Chiringuito to admire the sunset while enjoying a glass of wine by the famous wine waiter, Esteban Acosta.

Book without delay!
The most healthy: The Giri Café
In San Juan, there is this restaurant whose with a misleadingly modest facade. Located not far from its eponymous hotel, The Giri Café is worth the detour. Here, cooking is a real passion. The ingredients are chosen with care, and priority is given to quality. The menu has Mediterranean accents and the simplicity of the dishes gives way to fresh notes on the palate. The menu changes with the seasons to offer you the best organic ingredients without pesticides, most of which come from local farmers. The friendly restaurateurs of The Giri Café will gladly invite you to take a seat on the shaded terrace surrounded by a lush garden. In the midst of this soothing environment, you can enjoy organic smoothies, Mediterranean dishes prepared with fresh products and refreshing cocktails from morning to evening. We advise you to relax on the deck chairs that offer a remarkable view of the surroundings.

Eat local and ethical in Ibiza!
The most refined: Amante Ibiza
Next to Cala Llonga, on a vertiginous cliff overlooking the sublime bay of Sol d'en Serra, Amante Ibiza is a refined and trendy beach club that attracts the most exclusive jet-set of the White Isle. A must-visit, Amante Ibiza must absolutely be on your gourmet menu during your stay. And for good reason: fresh meat of the day, organic ingredients and creative presentations, the dishes served in this upscale restaurant surprise the palate and awaken the taste buds. The cuisine combines Mediterranean and Spanish influences, which are perfectly enhanced by chef Carlos Fernandez who uses delicate dishes such as black truffle oil. Surrounded by spectacular rocks and lush vegetation, Amante Ibiza enjoys a dream environment. This is why yoga classes are organised in the early morning to meditate in perfect harmony with nature. But it is at dusk that the place becomes truly magical. While savouring exquisite dishes, you can admire a show of pinks and oranges that will be played under your eyes. Listen to the crashing waves on the steep cliffs and let yourself be dazzled by the fiery sky turning into an intense and vibrant colour palette. In Amante Ibiza, the service is attentive and the decor, luxurious.

Enjoy the exquisite flavours of Amante Ibiza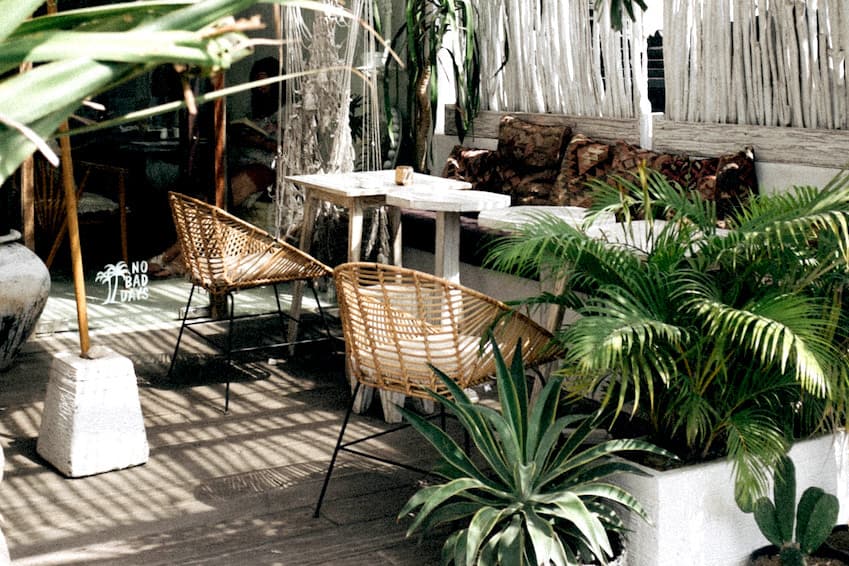 The most luxurious: Cotton Beach Club
On the heights of Cala Tarida stands Cotton Beach Club. This ultra-luxury beach club attracts the most fortunate clientele of the White Isle. And if you have the opportunity to spend a few hours, you'll quickly understand why. Here, the atmosphere is relaxed and trendy at the same time. The furniture is chic and immaculate white, giving the place an elegant and sophisticated atmosphere. The Cotton Beach Club also offers breathtaking views of the Mediterranean Sea, from its beachfront terrace to its cozy lounge and rooftop terrace. Held by Chef Federico Garcia, Cotton Beach Club offers a cosmopolitan menu of flavours from Thailand, Morocco, Cuba, Mexico and Japan. A real explosion of tastes, the dishes served at the Cotton Beach Club will awaken your senses and make you discover entirely new flavour combinations. An exceptional wine list compliments these delicacies inspired from the four corners of the planet. A yacht service and beach towel rental is also available to enhance your dining experience.

Experience the ultimate luxury in Cala Tarida
The most secret: Can Domingo
Created by three friends passionate about tableware, Can Domingo pays homage to Italian food. In the middle of the Ibizan countryside, on the hills of San José, Can Domingo is housed in an old finca and offers quality dishes. Like a secret garden, Can Domingo is nestled between the green valleys and the vegetation of Ibiza. However, once you have found this indescribable place, you will not want to leave it. Can Domingo offers simple but refined Italian cuisine made with fresh, organic ingredients. Vegetables are grown onsite in the permaculture garden! Under the shade of the olive trees, you can contemplate the spectacular view of the Mediterranean Sea while enjoying exquisite dishes and sipping cocktails. A la carte, find fine sausages, pork with milk cooked in its juice, bluefin tuna decorated with aromatics of Ibiza, but also incredible red wines and French champagne.

When Italy meets Ibiza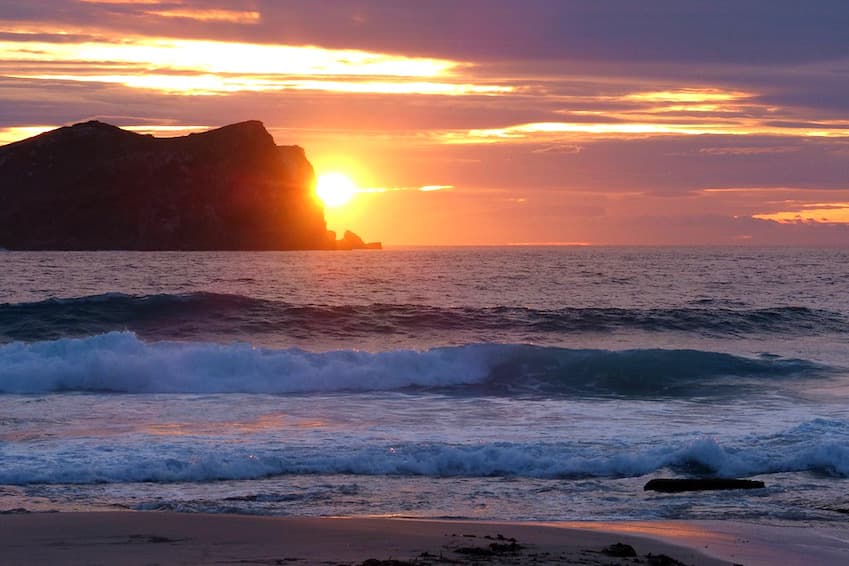 The most spectacular: The View
Located in Sant Josep de Sa Talaia, The View is undoubtedly the new trendy address that must appear on your gastronomic map of Ibiza. In the heart of the 7Pines Ibiza high-end complex, The View offers guests an incredible atmosphere and tasty dishes. With a cozy terrace offering breathtaking views of the Mediterranean Sea and a lounge with a calm and soothing ambiance, The View offers Mediterranean cuisine while enjoying absolute tranquility. Cradled by the lapping waves, you can enjoy the menu that mixes European and Korean influences. From breakfast to dinner, The View will awaken your taste buds. Upon waking, enjoy a coffee prepared by the excellent barista while tasting the delicious homemade pastries. Make the pleasure last until lunch when you can enjoy a cuisine mixing Mediterranean and Korean flavours. From the freshest fish to the meat of the day, The View offers a menu for all tastes. Finally, end the day while admiring the sunset in this superb environment that seems to float on the water. Inspired and inspiring, The View combines high-end service with fine dining. A twelve-seat table even offers an interactive dining experience to taste new recipes made from the best products in the world!

All your senses will be awake at The View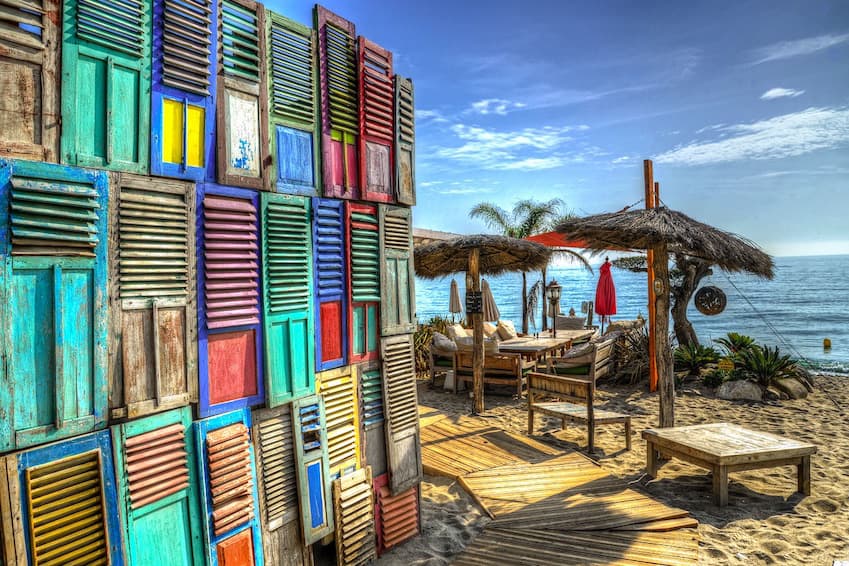 Most typical: Es Torrent
In the middle of the beautiful bay of Porroig, is the small isolated restaurant of Es Torrent. It is in this typical and chic haunt that Xico Sala founded Es Torrent. With a beach bar atmosphere, Es Torrent mixes an elegant and relaxed ambience to the delight of gourmets. Though the place is a little difficult to find, the journey is worth the detour! Affordable and delicious, Es Torrent offers traditional and refined dishes such as stir-fried calamari, clams and grilled mussels. Seafood lovers will be delighted by the freshness of the products and the flavour of the recipes. You can also relax on the shaded terrace under the parasols while enjoying one of the best fish dishes of Ibiza. À la carte includes lobster and a remarkable wine list.

For traditional dishes prepared with passion