Hot sand, turquoise waters, sun, exceptional landscapes...Ibiza is not just about crazy parties. Indeed, it is home to sublime beaches, worthy of real little corners of paradise. For families, quiet, atmospheric, or completely natural, there is something for everyone. Family groups, you will be delighted to discover our selection of beaches suitable for your children; the revellers, we reveal the perfect places to top up your tan in time for the next evening.

>>> Discover our villas near the beaches
>>> The best sunsets in Ibiza
9 - Cala Benirras
1 - Las Salinas
Located in the
south
of the island, Las Salinas is a long white sandy beach with music, club parades, and water sports activities. It is
a must-see
beach in Ibiza! Beyond its bars- a pleasure for young people- the atmosphere takes a much wilder side there. Here you can discover small, more picturesque coves where you can admire sculptures carved into the rock. Only 10 minutes from Ibiza town, Las Salinas is easily accessible by car.
>>> Our villa in Salinas
8 - Cala Jondal
2 - Cala de S'Aigua Blanca 
Aigues Blanques is one of the most popular beaches in Ibiza for
hippies.
This strip of fine sand and turquoise water, located in Santa Eulalia, is set in an unspoiled natural environment. It is one of the longest beaches on White Island, where you will find different people, from families to hippies and nudists. Its shallow waters are ideal for children to swim in. Exposed to east winds, it is the perfect place to try your hand at kitesurfing and other
water sports.
Don't miss this hippie beach in Ibiza!
>>> Our villas in Santa Eulalia
3 - Cala Salada
In the
north of Ibiza
, between a beautiful rocky cove and a crystal clear sea, you will find Cala Salada. Difficult of access, it is a secret beach!  You will have to walk a bit to reach it, but it's worth it! Indeed, it is a magnificent landscape offered to you. If it is beautiful for its view, it is also for its relaxation. You will find deckchairs, parasols, pedal boats, restaurants, and other comfortable facilities... As you will have understood, everything has been done to ensure that you have a pleasant and relaxing experience. This is one of the most beautiful beaches in San Antonio.
>>> Our villas in Cala Salada
4 - Talamanca
Only 15 minutes from Ibiza town, near the port of Eivissa, you will find a place not to be missed: Talamanca beach. Its clear, shallow waters are perfect for family holidays with the little ones. During the day, it is a quiet beach with plenty of opportunities for activities such as
yoga
and beach volleyball. In addition, most of the
restaurants
are open all year round, so you can enjoy a delicious meal right on the beach. At nightfall, its many bars and clubs will keep the party-goers happy until dusk.
>>> Our villas in Talamanca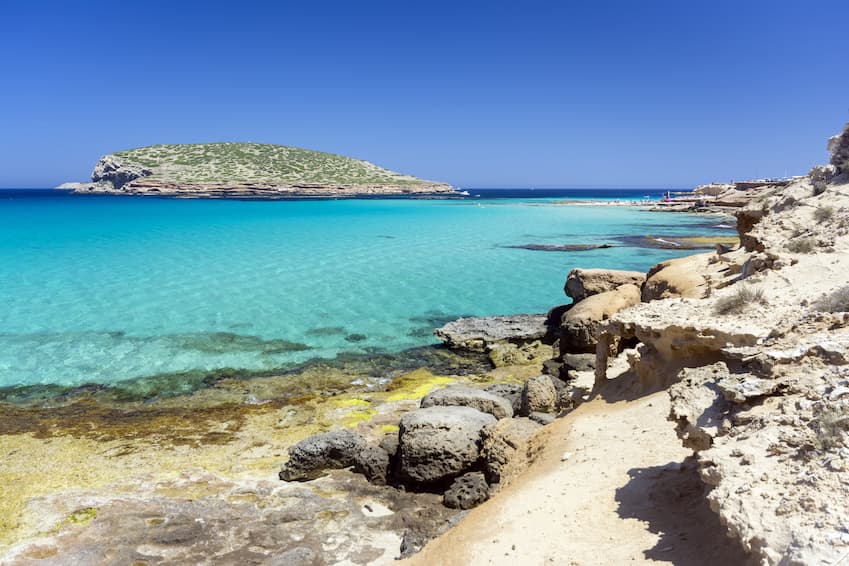 5 - Cala Conta
Cala Conta, known as "3 in 1", is three beaches in one, one of which has been adopted by naturists. It is ideal for family
activities
!  You can rent a pedal boat or swim to the islet in the middle of the turquoise and translucent waters in a shade of blue. Only 15 minutes from San Antonio, the beach is easily accessible. After the activities, it's time to
relax
! You can find deckchairs, parasols, or even
open-air
restaurants, with your feet in the water.
>>> Our villas in Cala Conta
6 - Cala Benirras
Occupying the place of the great myths of Ibiza, especially the history of the hippy movement, Cala Benirras is a must-see beach on the island. Nestled in the northern hills, this hippie beach was the gathering place of the movement in the 1970s. The atmosphere still resonates today. At sunset on Sunday afternoons, a "Peace and Love" atmosphere reigns around the drumming. Beyond its atmosphere, Cala Benirras offers a spectacular setting with its
cove,
its translucent waters and its surprising man-shaped rock in the middle of the bay.
>>> Our villas in Cala Benirras
7 - Cala d'Hort
Looking for a natural and unspoiled beach? Look no further! As part of a national park, Cala d'Hort is fighting against
tourism development.
Thousands of environmentalists have fought to prevent the construction of hotels, golf courses, and a desalination plant to protect and safeguard the authenticity of this beach. Cala d'Hort is a place of singular beauty, offering little corners of paradise and a magnificent view of the island of Es Vedrà. There are also a few
restaurants
renowned for their fish, as well as
shops
in the vicinity. If you want to go on a walk, we recommend the small adjacent coves, a local and authentic experience around the fishermen's huts. 
>>> Our villas in Cala d'Hort
8 - Cala Jondal
Cala Jondal offers a beautiful bay in the middle of a pine forest. At the water's edge, you will find pebbles and warm sand, all surrounded by high cliffs. As you can see,
nature
is at its best! The water is turquoise, seemingly calm, but can get rough on windy days. You are advised to be careful, especially with small children.  For jazz lovers, the famous Blue Marlin bar offers live music evenings, where you can catch a glimpse of the Jet Set
stars.
>>> Our villas in Cala Jondal
9 - Cala Bassa
Cala Bassa is a beautiful golden sand beach sheltered by a bay surrounded by pine trees. The pine trees offer comfortable shaded areas where you can relax. From the beach, you can enjoy a magnificent view of the bay of San Antonio. The water is transparent, shallow, and has a gentle slope, making it ideal for
children
. For
snorkelers
, there are many different species of small, colorful fish. For the lucky ones, dolphins can be seen in the distance. To eat, you can find chiringuitos and a gourmet restaurant in the pine forest.
>>> Our villas in Cala Bassa
10 - Cala Tarida
Let's go to the
west of Ibiza
, to Cala Tarida! Because of its undeniable beauty, it is well
worth the diversions
!  Here, you can enjoy the turquoise water while taking advantage of the
various sports
: pedal
boats
, diving, jet-skiing, boat trips, hiking... all means are good to discover the treasures of this beach. With friends or family, you can end the day with a drink on the terrace facing the sea. If you are looking for a secret beach in Ibiza, go to the neighboring beach, Cala Tarideta!
>>> Our villas in Cala Tarida