Top 9 sports activities to do during your holidays in Ibiza
Written on : 19 April 2019
In Ibiza, the party is in full swing and the lively nightlife often gives way to all possible excesses. However, far from popular belief, Ibiza offers many opportunities if you want to partake in sports even during your holidays. From hiking trips to bike rides, if you travel with your family, you will not have time to get bored on the so-called White Island! Discover right now our top 9 sports activities to do in Ibiza during your stay.
1- Cycle around the island
Stretching over 572 km2, Ibiza is a small island that can be crossed by bike. This island of the Balearics has indeed many natural areas to discover by bike or on foot. Among the easiest ways to get around the island is by bike, embark on rides from Port d'Es Torrent or from San Antonio. If you are a little more sporty, you can venture on the circuit of Sa Talaia, in the Southwest of Ibiza, which crosses fantastic beaches such as Cala Molí or Cala Tarida. One of the most beautiful mountain bike trails is Camp Bell, which runs through the West of Ibiza, between small valleys, huge fields and typical villages. With family or friends, a bike tour of the island will allow you to explore all the beauties of the island of Ibiza while exercising. A real treat!
2- Go on a yoga retreat
Far from popular belief, Ibiza is not just about parties and discos that attract the wealthiest clientele on the planet. On the contrary, thanks to the hippie community that landed on the island in the 60s, a zen atmosphere now floats in the air. Thus, thanks to our villas where you can do some yoga, you can decompress and disconnect from all the worries of everyday life. Our properties have bright and immaculate living areas that give the place a soothing atmosphere. If you have the opportunity, we advise you to rent a waterfront villa or a property with an ocean view. So, rocked by the lapping waves and astounded by the spectacular landscape facing you, you can meditate in total privacy and decompress.
3- Practice kayaking
On land, Ibiza is exceptional. But it is undoubtedly on and under the water that the treasures of the island will be fully revealed to you. So, if you have the chance to spend a holiday in Ibiza, take this opportunity to try water sports! In particular, discovering Ibiza on board a kayak will be a unique experience that will leave you with unforgettable memories. On the island, you will find many beachside agencies offering kayak rentals and even stand-up paddle (SUP) rental to visit Ibiza in an unusual way.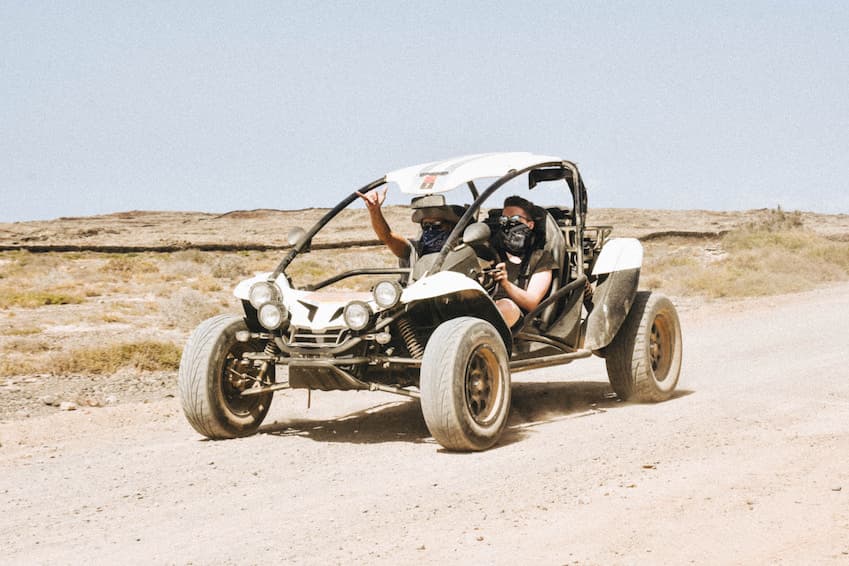 4- Discover Ibiza by quad or buggy
Are you a thrill-seeker? Try the quad or the buggy! On secondary roads, you can discover all the beauty of Ibiza's coves and its coast in an unusual way! Depending on what you prefer, it is possible to make this excursion alone or accompanied with a guide who can take you to visit the most beautiful spots of the island of Ibiza. One thing's for sure: riding Ibiza on quad or buggy is an unforgettable experience that will remain etched in you, even after you leave this island.
5- Explore the seabed of Ibiza
Ibiza is also the perfect destination to try snorkeling and scuba diving. The island enjoys many dive sites with varied biodiversity, caves, cracks and other cavities to explore. So put on your masks and snorkels! Among the most popular diving spots, do not miss Don Pedro, one of the largest shipwrecks in Europe. To explore this magnificent vessel, you will need to dive between 26 and 47 meters deep. However, the interior of the wreck is accessible only to the most experienced divers. You can also go to La Plataforma, in Formentera, during a getaway on this island of Pityuses, adjacent to Ibiza. On this peaceful island, you will find a sunken fish factory that you can explore from 11 to 33 meters deep. Finally, on the East coast of Ibiza, you will also find the reef of Santa Eulalia. Accessible by boat from Cala Martina, this rocky platform includes three incredible dive sites. Among them, do not miss the lighthouse, the most impressive site in the area.
6- Play a game of tennis
Ibiza's sunny weather is perfect for doing outdoor activities. So, if you are traveling with family or friends, it may be a good idea to organize a game of tennis. Tennis is one of the most popular sports in the world, and for good reason! Competitive and entertaining at the same time, this sport will make you spend energy under the sun of Ibiza. Even though there are tennis clubs on the island, we recommend that you rent a villa with a private tennis court. Thus, you can play in total privacy and practice your favorite sport in ideal conditions.
7- Plan hikes
With its exceptional natural spaces and wild coves, Ibiza is a destination of choice to organize excursions. For all levels and all physical conditions, these hiking trails will allow you to keep fit during your holidays but also, and above all, to discover the breathtaking beauty of the island's landscapes. Among the best known trails, we recommend you climbing the highest mountain in Ibiza: Mount Sa Talaia. Throughout the hike, you can admire superb views of the coves of the island and especially Cala d'Hort. Far away, one can also see the spectacular islands of Es Vedrà and Es Vedranell. However, this hike remains very popular and attracts many tourists each year. If you prefer quieter areas, we recommend that you walk around Portinatx in the North of Ibiza. From this charming village, you can reach in only a few hours Punta Xarraca; where you can get a spectacular view of the Cala Xarraca, one of the most beautiful beaches of Ibiza. It is also possible to walk in the Ses Salines Natural Park, a natural area filled with incredible biodiversity.
8- Have fun by tree climbing
More than a sport, tree climbing is a real experience that will delight young and old! There are several activity parks dedicated to tree climbing in Ibiza. In particular, do not miss Acrobosc Ibiza, located between Santa Eulalia and Es Caná. In the middle of a pine zone, this adventure park offers three tree climbing circuits suitable for all ages with zip lines, platforms and obstacles of various difficulties. This is an opportunity to enjoy the weather in Ibiza while having fun with family! The instructors are there to guide you and show you the safety instructions before you start the tree climbing tracks. So, ready for an extra-thrill experience?
9- Try a horse ride
To visit Ibiza off the beaten track, stroll on horseback! By doing so you will discover in an unusual way the diversity of landscapes of this Balearic island through a fun activity that will delight the whole family! You will find different equestrian centers in the four corners of the island offering this type of hikes, especially in Santa Gertrudis, San Juan (Sant Joan de Labritja in Catalan) or Santa Eulària des Riu. This is undoubtedly a great opportunity to share beautiful moments with your loved ones and discover at the same time the dazzling beauty of the natural landscapes of the so-called White Island.